Kelly's Trout Creek Inn
Come explore the land of the "Forgotten Giant" — Mt. Adams.
Kelly's B&B has been your Trout Lake get-away since 1998.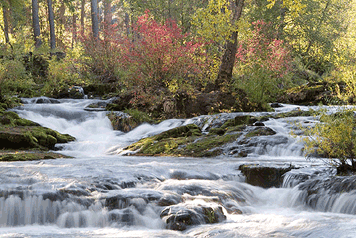 Trout Lake Creek Falls photo by Donna Lasseter, from Kelly's
After 18 years of hosting our Bed and Breakfast, we have decided to operate as an Inn. We no longer server our full breakfast, but will offer delicious, healthy huckleberry muffins and organic toast, along with fresh ground roast coffee and teas.
Our outdoor kitchen is set up on the deck overlooking the creek and waterfalls for your use, with a gas BBQ and small refrigerator.