Recreation in the Trout Lake Area
The Trout Lake valley is relatively flat, with Mt. Adams towering overhead, and offers excellent scenic road biking opportunities. A scenic loop drive, or road bike ride (called the "Infinity Ride" — all on paved roads) exists in the area and is about 90 miles total (2 separate 45 mile loops). Ask us for details.
The nearby Gifford Pinchot National Forest has many trails for mountain bikes in all levels of difficulty.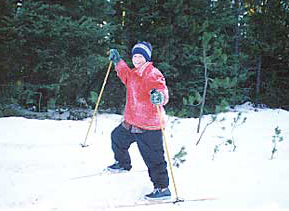 Cross-Country Skiing at a nearby Sno-Park
Beautiful hiking trails abound in the nearby Gifford Pinchot National Forest, (Mt. Adams Wilderness and the Indian Heaven Wilderness). A junction with the Pacific Crest Trail is 13 miles from the Inn.
A relaxed day of exploration can be had by car in the nearby Ice Caves, the Natural Bridges (beautiful with Fall colors) and the Big Lava Bed (12,500 acres!).
We are located on the Mt. Adams Chamber of Commerce's "Mt. Adams Country" scenic driving tour.
Seasonally, the area offers mushroom picking, and perhaps the best huckleberry picking in the state.
World class kayaking and rafting are available on the nearby White Salmon and Klickitat rivers. Rafting services and guided trips are available at nearby BZ Corners.
We welcome hunters and fisherman.
And of course, the very close 12,276' Mt. Adams offers mountain climbs second only to Mt. Rainier within Washington state.
Trout Lake is truly a winter recreation heaven with four Sno-Parks for cross country skiing (30 mile of groomed trails) and snowmobiling within seven miles of town.
The actual Trout Lake and the nearby Conboy National Wildlife Preserve are great places for bird watching. In springtime many deer and large elk herds can usually be found in the valley for viewing.
Information on all the recreational opportunities are available at Kelly's Inn and at the Trout Lake Forest Service Ranger Station: (509) 395-3400. The Gifford Pinchot National Forest also has a wonderful web site at: www.fs.fed.us/gpnf. Additional recreation information may be found on the Trout Lake Community Web Site.
Hood River, Oregon, 25 miles South of Trout Lake, has several rental shops for cross-country skiing equipment.
---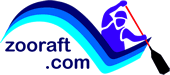 "Since we opened in 1998, many of our Inn guests have gone rafting on the White Salmon River with Zoller's Outdoor Odysseys. The feedback we've heard has all been very positive — especially concerning the enthusiastic and professional staff — not to mention the great fun of the trip itself, which is world-class whitewater adventure."
— Kelly & Marilyn, Kelly's Trout Creek Inn B&B
Phone: 800-366-2004
---
We accept personal checks, cash, Visa, MasterCard or Discover.
We have a 2 night minimum stay policy for weekends June through mid-September. Our cancellation policy applies for June through mid-September, and is a 7 day policy.